Bioglitter is a true naturally biodegradable glitter that can really help with the huge micro-plastics pollution that is currently damaging our environment. Switching to a more eco-friendly glitter has become urgent!

Since we learned about the damage standard glitter causes to the environment, many glitter lovers have chosen Bioglitter as the perfect replacement for plastic glitter. Here are the reasons why;
What Is in Standard Plastic Glitter?
The currently most used type of glitter is very harmful to our planet because it contains several layers of micro-plastics that pollute our oceans and natural environment.
The layers it contains are synthetic polymer coatings, an aluminum reflective coating, the transparent polyester core film and other polymer coating to provide the glitter with a transparent color.
For iridescent glitter, things are even worse. It contains more layers of micro-plastics than traditional plastic glitter, more than 150 layers of thin polyester and acrylic films. And sometimes, it even has a transparent coating that extends the color range and gives the glitter its light refraction effect.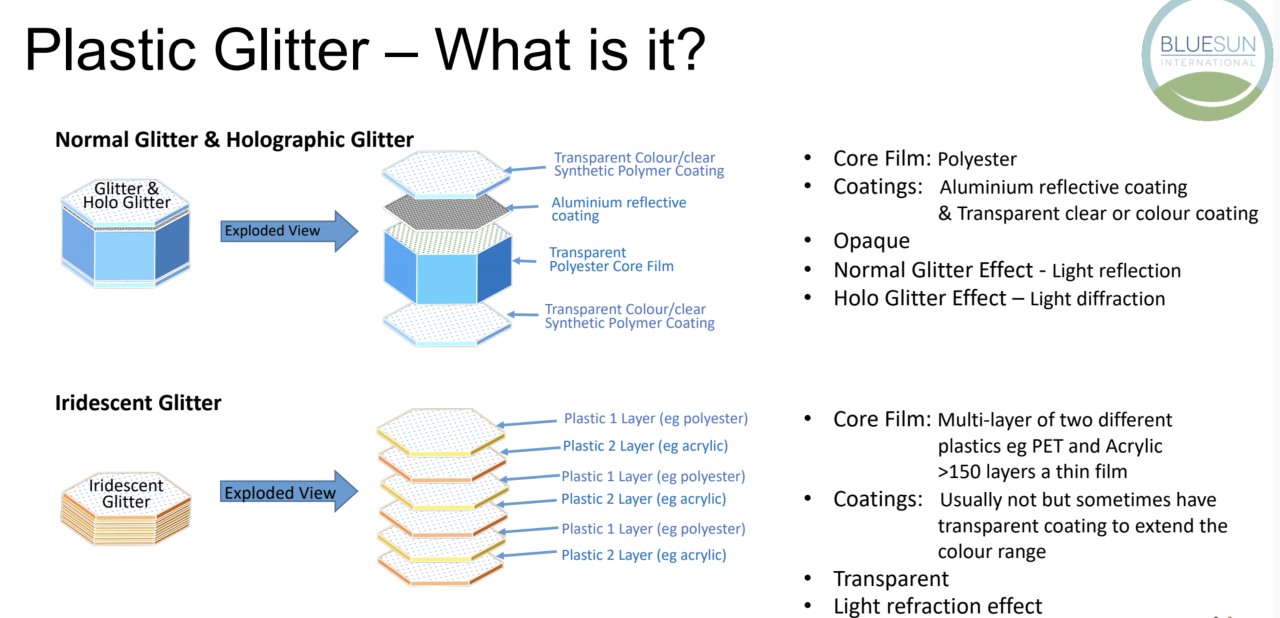 What Is in Bioglitter?
Bioglitter's goal is to make all its products plastic free. They are already proved to biodegrade in the natural environment.
Bioglitter has replaced the plastic films with natural coatings.
It is the only glitter tested by an independent organization (OWS Belgium) that proved all of the Bioglitter products biodegrade in the natural environment.
One of its products (Bioglitter Pure) is 100% plastic free.
It contains several layers of natural derived coatings, for a transparent color and to make your glitter light reflecting.
The film core is made out of modified regenerated cellulose (MRC), which is 90% of the glitter content and unique to Bioglitter.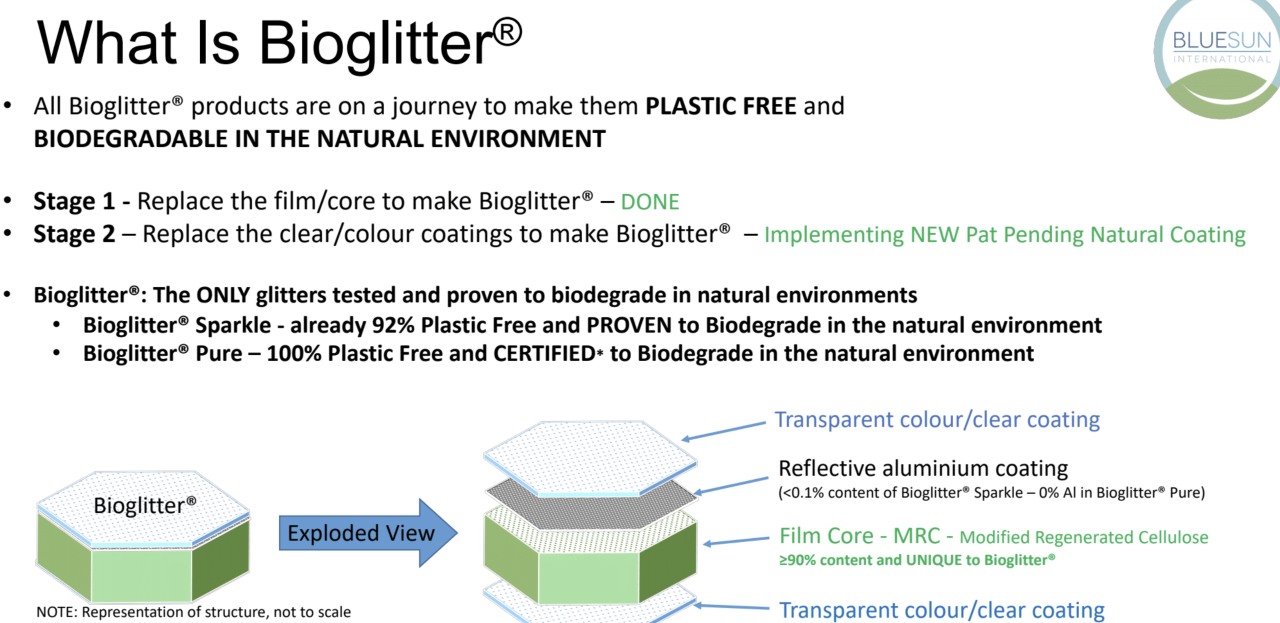 Bioglitter Is Good for the Environment, but Is it Good For You?
Of Course! Since it is made with natural derived materials, most of the Bioglitter consumers report this biodegradable glitter feels softer on their skin.
Bioglitter Pure is 100% plastic free so it does not contain any aluminum, which makes it suitable for use on lips.
The tests passed by Bioglitter show that most of the Bioglitter biodegradable content decomposed in less than 4 weeks. It was also guaranteed that it biodegrades in a natural and freshwater environment, so it does not need of special temperatures to biodegrade; once it gets in contact with the natural environment it will eventually disappear!
Get Bioglitter Products!
There are many other companies claiming their glitter is biodegradable, but remember that in order to guarantee biodegradability in any natural environment, your glitter has to pass the freshwater test.
Bioglitter has passed the freshwater test and is proud to share the results with you. See this chart that summarizes them.
Remember also that if other companies sell compostable glitter or not standard glitter, that is not enough to help our environment. In order to guarantee biodegradability, your glitter has to pass the freshwater test that guarantees it is naturally biodegradable.
Today Glitter and Blue Sun International are proud to be the only companies authorized in the US to resell Bioglitter products. Get in contact with them if you want to get a true biodegradable glitter.